Do you need a Today extension for your iOS app?
For the last couple months, I observed Today extensions of some of iOS apps I daily use to see when those widgets are useful and how to justify developing one. Here are my conclusions.
Couple years ago, Apple brought Today extension, a small widget described to give a quick access to your iOS information that are important. The best example is probably the weather or the foreign exchange rate.
However, some apps designed it in a way to create shortcut to their app, which can be efficient but only depending of what service you can offer.
Keep one action per extension
If you create a widget for iOS app as shortcut, be sure to limit it to one action. Shazam did it very well by starting recording, same as Strava by starting tracking a run.
Dojo App tries to limit to Food & Drink action for discovery. However, the app offers way more categories than those two, so even after limitation, I'm not sure it's enough for a good conversion.
Weirdly, the app Headspace designed to help relaxation doesn't have one but I think it fits my requirements for a try, especially since it's based on a daily routine.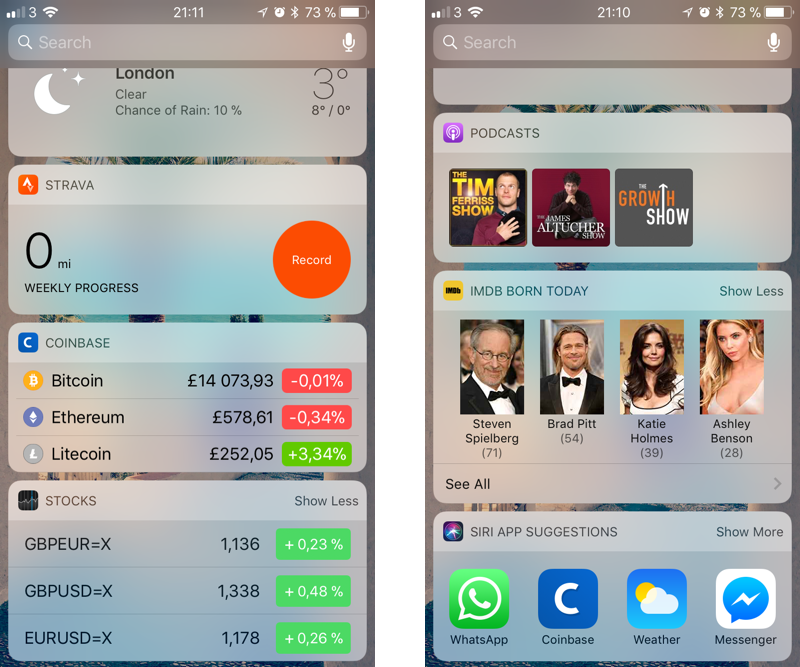 Limit your content to a meaningful preview
For a content extension, I believe one of the key is to limit the amount of refreshment per day. It might be the mistake made by most of the news apps to update multiple times per hour: users can miss the key content, but the extension keep being refreshed in the background, the user experience is not improved.
It could explain why Facebook or Twitter didn't create one, a full in-app approach to keep the best user experience.
A good example is IMDB and its app dedicated to movies and tv shows. They managed it quite well with their "Celebrities born today" extension. A quick preview of famous celebrities and their birthday engage easier with the user: you want to check their filmography or maybe latest movie? At least it worked with me.
On the other side, keep in mind that the smaller the better, the user can still collapse the extension which could remove some context in the extension. It's more interesting to give the main info in a collapsed way.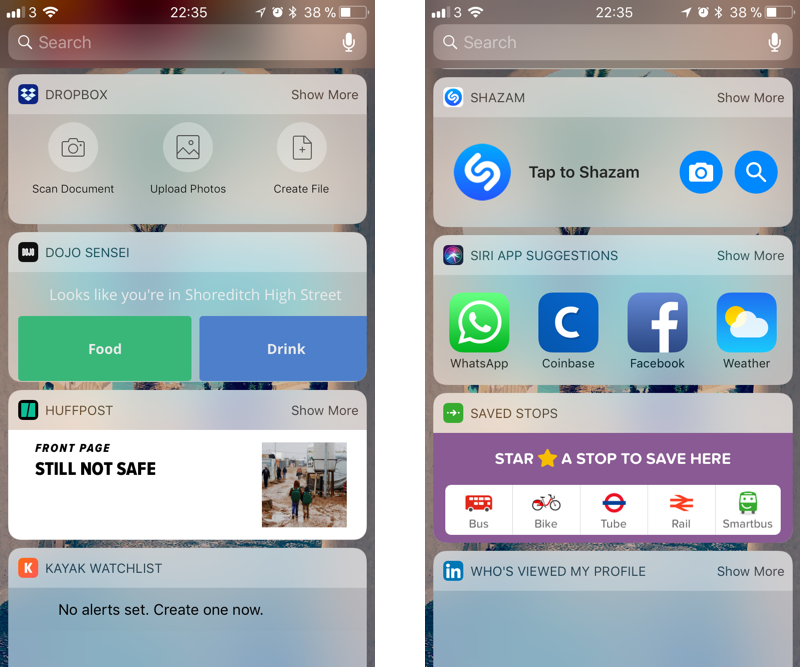 In conclusion
It's interesting that I couldn't find many retailer apps using widgets to attract users back in their app, it could be a softer way than notifications to update users, like Amazon with status order or Selfridges with just-in products.
On my widget wish list, I think Headspace could use one as a shortcut to get user back. On the content side, I think National (American) Football League mobile app also fills some requirements: they could take advantage of it by simply showing next date and time of game for fans.
There is no statistics about Today extension usage, but I think it can still be a good channel for retention, let's not forget it's a swipe left from your lock screen to go back to your app.